Honeywell EnergySmart Cool Touch Ceramic Heater White, HZ-7304U
Utilizes EnergySmart Technology
Availability: Back Ordered
Estimated In Stock date is 10/3/2020.
Regular:

$69.95
Price: $56.95
You Save: $13.00 (19% Off)
- View Video On This Product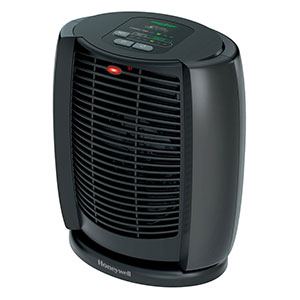 Digital LED lights clearly indicates the room's temperature and desired temperature
EnergySmart Technology regulates power consumption, saving you up to 35% on energy bills vs. conventional heaters
Energy Usage Indicator displays amount of energy used during operation
3 heat settings provide just the right amount of comfort
Exceeds Industry Safety Standards
Tip Over Safety Protection
Overheat Protection Device
Extra-Wide Sturdy Base
Cool Touch Safety Housing
Fan-forced heat circulation for personal warmth
Programmable Thermostat
Oscillates for wide area heating
Rated a 'Best Buy' by a leading consumer magazine, the Honeywell Deluxe EnergySmart Cool Touch Heater utilizes EnergySmart Technology to regulate power consumption while providing an indicator that displays overall energy usage. When used accordingly, this heater carries the bonus of saving you up to an additional 35% on your next energy bill. Ideal for heating large to wide areas of space, this EnergySmart Heater comes with a programmable thermostat and three separate heat settings. The addition of safety enhancers such as a Cool Touch Safety Grille, Tip Over Switch and Overheat Protection exceed Industry Safety Standards while reassuring absolute peace of mind. User friendly controls, efficient heating and a focused attention on safety make this a versatile heater that can be implemented in any number of settings.
Color: White
Room Size: Small
Maximum Wattage: 1500 watts
Product Dimensions: 10.35 x 7.13 x 11.69 in.
Product Weight: 4.6 lbs.
3 year limited warranty
Write A Customer Review
4.8
Average score based on 6 reviews
Reviewed: 07/07/2020 by Patricia Ausdenmoore
the item is good: there are choices of temperature and settings, I am 86 yrs old and feel cold all the time, no matter how high the heat of the house. So I appreciate this heater.
Good
Reviewed: 03/30/2020 by Mia Hu
I bought the same one three years ago. It works very well
Librarian
Reviewed: 01/02/2020 by Robert Taylor
The equipment was delivered during the promised delivery timeframe. The equipment, a heater, does what it was described to do. The person who the equipment was purchased is very happy with the product. We will purchase with this company again if we have the opportunity or need in the future.
Reviewed: 12/10/2019 by Alfred Brown
The amount of heat it produces is less than I expected but it does the job.
Reviewed: 11/19/2018 by Jackie Miller
Quiet and efficiently heats the master bathroom.
Reviewed: 01/30/2018 by Nedra Edwards
Warms your area very well. Ordered to use in our work areas and the team loves them.
Write A Review For This Product
Q: My HZ-7304U Heater shuts off unexpectedly or fails to operate. What do I do?
A: Check for any obstructions. If you find an obstruction, turn the heater OFF and unplug it. Allow the heater to cool completely, then remove the obstruction. Wait at least 10 minutes, then re-plug the heater in and follow the OPERATION instructions.
---
If you are interested in ordering a large quantity of items you may qualify for volume pricing discounts. Volume Discount Pricing is a great way for customers to save big on large, bulk orders of most items available in our store. Please
send a bulk order request
to our friendly sales staff so they may create a quote and provide personal service for your order! You will receive a response within 1-2 business days and our office hours are Monday through Friday, 8am-5pm CST.
We make it as easy as possible to ensure you get the lowest prices available:

Let us know what products & the quantities you are interested in.
Get a detailed quote from a dedicated sales rep.
Our warehouse ships directly to you.
You enjoy the savings & are now a preferred customer.

Send A Request Now

Direct From Warehouse Pricing