Honeywell Designer Series Cool Mist Humidifier - Black, HUL430B
Add essential oils for extra comfort
Regular:

$89.95
Price: $73.45
You Save: $16.50 (18% Off)
- View Video On This Product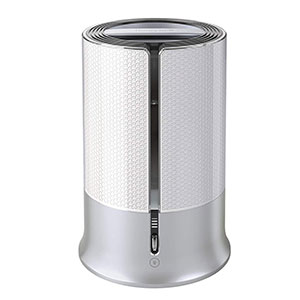 Filter free and ultra-quiet operation
Adjustable mist control-scroll to adjust mist output
Textured housing with clear shroud and visible water window
Wide tank opening is easy to fill and clean
Illuminated water window-adjust tank light to Bright/Dim/Off
Auto shut-off when empty
Essential oil tray: add essential oil for extra comfort
Stylish design works in living areas
Medium to large sized rooms
Runs up to 24 hours per filling
2 year limited warranty
The Honeywell Designer Series Cool Mist Humidifier utilizes a filter free and ultra-quiet approach to releasing ultrasonic cool mist into the surrounding air. Adjustable mist controls will allow owners to manually select their preferred mist output settings via a textured metal control wheel. The illuminated water window includes three settings (bright/dim/off). These lighting features and a wide tank opening allow for a seamless cleaning and refilling process. This cool mist humidifier will automatically shut off when it's reached empty. It's a feature that removes any of the guessing work involved with the overall output of your humidifier. The inclusion of an essential oil tray will allow owners to add their favorite oils for added comfort. The Honeywell Designer Series Cool Mist Humidifier is an excellent selection for medium to large sized rooms and is capable of running up to 24 uninterrupted hours per filling.
Product Dimensions: 8.8 x 8.8 x 13.2 in.
Product Weight: 6.6 lbs.
Moisture Type: Ultrasonic Cool Mist
Designed for medium to large sized rooms
Runs up to 24 hours on low setting
1.25 gallon tank capacity
Filter Free Operation
2 Year Limited Warranty
Write A Customer Review
5
Average score based on 2 reviews
Excellent Product
Reviewed: 01/14/2020 by Asim Akram
Great design and works extremely good. Really happy with the product design and functionality
Reviewed: 01/14/2019 by Ryan Gunsalus
Easy to load and does it job.
Write A Review For This Product
If you are interested in ordering a large quantity of items you may qualify for volume pricing discounts. Volume Discount Pricing is a great way for customers to save big on large, bulk orders of most items available in our store. Please
send a bulk order request
to our friendly sales staff so they may create a quote and provide personal service for your order! You will receive a response within 1-2 business days and our office hours are Monday through Friday, 8am-5pm CST.
We make it as easy as possible to ensure you get the lowest prices available:

Let us know what products & the quantities you are interested in.
Get a detailed quote from a dedicated sales rep.
Our warehouse ships directly to you.
You enjoy the savings & are now a preferred customer.

Send A Request Now

Direct From Warehouse Pricing